Welcome to our home! We are southwestern Ontario's premier dealership for Hyundai,  Subaru, and Fenwick Advantage Pre Owned automobiles. We have a long history of Volvo experience servicing Volvo's since 1959 and as an authorized dealer from 1977 until 2009. Our doors opened on July 1st, 1955 and our goal is to continually provide the finest guest service in the industry with the best automotive products possible.
We are dedicated professional ladies and gentlemen serving professional ladies and gentlemen.

Our three steps of service are the foundation of our hospitality and the keys to our guest satisfaction, retention and loyalty. At Fenwick Motors you will receive a warm and sincere greeting, a resolution of your needs and we'll say Thank You!

Our experienced sales and service staff is eager to share its knowledge and enthusiasm with you. We encourage you to browse our online inventory, schedule a service appointment for your current car or arrange for a test drive from our new / pre owned selection. We're here to provide all of your finance / lease options for your next vehicle. You can request more information about a vehicle using our online form or by calling 1 (877) 342-0093.
If you'd like a see a vehicle in person, click on Dealership: Directions for step-by-step driving instructions to our site, or give us a call. We look forward to serving you!

Yours truly,

Glen Fenwick

HISTORY OF FENWICK MOTORS
We have a vast and exciting history. See our timeline below: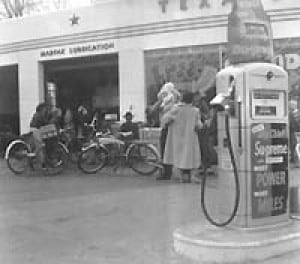 July 1, 1955
Ron Fenwick and Sam Beatty open a service station at the corner of Sheperd and Ontario (now it's a convenience store) with Edna as the bookkeeper. They quickly become know as, "The best mechanics in town."
1959
After a move to our present location, which was precipitated by a fire, Beatty & Fenwick Garage begins to service a funny little import that looks like a 1946 Ford. It's called Volvo.
1965
Ron is impressed by Volvo's handling, toughness and a seldom recognized quality known as "safety". He buys and repairs a wrecked 1963 544, and begins a lifelong relationship as an owner.
1969
Looking to move up in style, Ron buys and repairs a wrecked 1967 144 for the family vehicle.

1972
Business is strong so Ron & Sam add 2 more work bays for a total of 5.
1973
Ron & Edna purchase their first brand new car, a 1973 142 GL, Pumpkin 0range with Black Leather (keep in mind this was the 70s).
1977
The last of at least 5 consecutive Volvo dealers stop selling the brand. With Beatty & Fenwick Garage doing all the service work, it is very hard for the dealers to be profitable. So when Ron approached Volvo Canada to buy parts directly, they said, "No way. Only to dealers. You've been fixing them for 20 years, why not sell them?" And so we became a big time car dealer with 2 new Volvos & the hockey stick Volvo sign that is still on our lot today.
1981
Rapid acceptance of Beatty & Fenwick Volvo allows us to exclusively service Volvo cars. Hoo-Ray! No more domestics! An amazing number of long-time customers switch to Volvo, and stay with us to this day.

1986
After a successful 31 year partnership, Sam retires to spend more time with his family and hobbies. Ron and Edna become sole proprietors with Glen lurking in the background.
1988
A single car showroom is added to the front of the building.
The 90s
Volvo statistics tell us the Sarnia has more Volvo cars per capita than any other city in Canada. They also tell us that our service penetration (the number of cars we fix compared to how many we sell) is 101%. Normally a great score for a dealership is 65%. Ours is very high because many people come from outside our area for repairs.

1990
Two more bays are added to the rear of the shop for a total of 7 work bays.
1993
Beatty & Fenwick Volvo changes it's name to Glen Fenwick Motors to represent the changing times.
1997
We finish the year with the highest ratings for a Volvo dealership in Canada for customer satisfaction in sales and service.

1998
Major facility upgrade occurs with an expanded showroom. We have an all new exterior with signage and a new parts & service area. During this time we finished again at the top of the heap for customer satisfaction. We also sell more cars than ever.
2002
On July 1st  Glen Fenwick Motors became the new authorized Subaru dealer for Lambton County.
2004
Still the leader for total customer satisfaction. Dennis Dwyer, one of the few Volvo Expert Technicians in Canada, is taken to Sweden in recognition for belonging to the best of the best in North America.
2005
Great customers, great new product, a bright future.